THE big PLAN D- MINI festival (5+)
Plan d- celebrates it's 10 year anniversary with a festive, interactive festival with the best of plan d-.
In 2018 is plan d- 10 years old and that's worth celebrating!
Special for this birthday celebration a number of the successes (of previous years) will be performed again, like See Heroes, Circus Santa Sangre, Friends in Winter, Friends in the Library, Friends in the Country and Sophie.
The MINI festival starts wiith a performance of Sea Heroes 19 October in the Bijlmer Park theatre in Amsterdam. Then we move to the Hague, 24 to 26 October, performing Friends in the Country, Sea Heroes and Circus Santa Sangre, during the Betovering (Enchantment) Festival in the Nieuwe Regentes theatre.
The mini-festival is a festival for the whole family, young and old, with performances and a wide range of activities in which children can play and be creative. With a lot of dance, theatre and fun!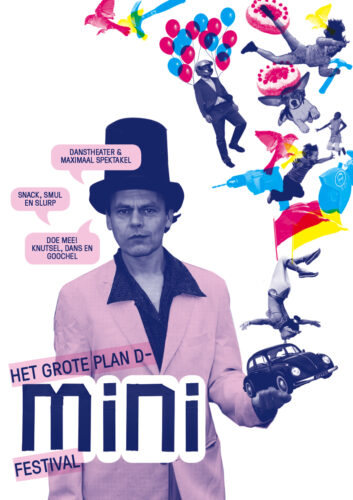 Playlist
Reeds geweest:
04.01.19

Buurman in de Winter

30.12.18

Buurman in de Winter tijdens Festival Spruit

29.12.18

Circus Santa Sangre tijdens Festival Spruit

25.11.18

Circus Santa Sangre- kaarten reserveren: britt@plan-d.nl

24.11.18

Sophie- kaarten reserveren: britt@plan-d.nl

24.11.18

Zeehelden - kaarten reserveren: britt@plan-d.nl

23.11.18

Buurman in de Winter kaarten reserveren: britt@plan-d.nl

26.10.18

Circus Santa Sangre (Circusdag)

25.10.18

Natuur/duurzaamheid Buurman in de Natuur

24.10.18

Zeethema (Zeehelden)

19.10.18

Zeehelden extra, Doe boot XL, Dansworkshop, Drankje tegen de wind, Waterproeverij, Vlaggen schilderen, Broodje bakkelau

01.01.70
A festive en interactive festvial to celebrate 10 years of plan d-
Other Performances