Friends in the Library (5+)
Een ode aan het boek en de verbeeldingskracht.
The two neighbours/friends are sitting together in the library. One is immersed in a computer game, the other is watching films on his ipad. Surrounded by towering bookcases the two friends are lost in their own digital world. But then all of sudden the computers crash. What now? They go looking for electricity. And then all of a sudden they see they are surrounded by hundreds of books. They are curious, what's in all these books. And how can they get to the top shelf? It's time for exciting discoveries in the library! The neighbours climb up the bookcases, slide down again and manage just in time to stop the bookcases from falling over. They open several books, get lost in fantasy worlds and bring wonderful pictures to life. They read, the look, they listen and dance between the books. In no time the library turns into a place of chaos and fun!
Friends in the library is the sequel to the successful production of Friends on holiday and Friends in the winter. In this performance in music and dance the friends celebrate the book, stories and  the power of imagination. Of course there is a lot that goes wrong in their world but the friends know how to solve all the problems in their own wonderful inimitable way.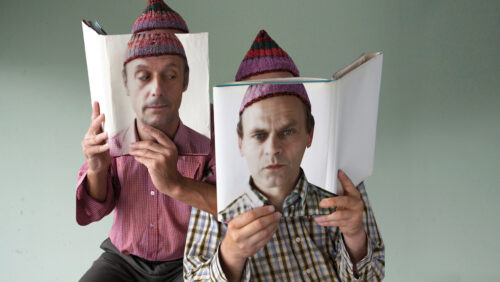 Playlist
Reeds geweest:
07.11.20

31.01.20

04.11.18

04.05.18

21.11.17

21.11.17

20.11.17

20.11.17

01.10.17

11.04.17

11.04.17

10.04.17

10.04.17

07.04.17

06.04.17

06.04.17

04.04.17

04.04.17

03.04.17

03.04.17
Credits
Idea, concept, choreography Andreas Denk, Jordi Casanovas
Dance Andreas Denk, Jordi Casanovas of Lorenzo Capodieci
Direction Klaus Jürgens
Dramaturgy Bram de Goeij
Music direc Wiebe Gotink
Light design Pink Steenvoorden ( Einstein Design )
Set design Pink Steenvoorden ( Einstein Design ) / Andreas Denk
Stage Manager Marco van de Velde (Stageman)
Foto + graphic design Es & Zn - Esther de Boer
Stage photography Leo van Velzen
Education & work Neel Brans
Best Boys Tokyo, Jacob Kuiper, Henk Neef
Business manager Andreas Denk

Other Performances