Sophie
A dynamic dance performance for adults.
He drinks out of the bottles, throws glasses against the wall, and sings songs with abandon. He is desperate, but despite this, he hasn't lost his will to live. He knows that he must go on, must find a way, whatever that may be. During a joyous and energetic dance, he is carried away as he listens to the consoling sounds of the music and moves slowly in the direction of new hope.
In this show, we see a person who tries to come to terms with life and death, but even more with the process in between. How do you deal with the overwhelming emotions that are caused by the death of a loved one? How do you continue living after death has taken away a part of your life?
'Sophie' is about loss and grief, but it is also a performance about how to give the pain a place in your heart, about how music and dance can lift a person out of their pain and suffering, and carry them to a place of floating and forgetting.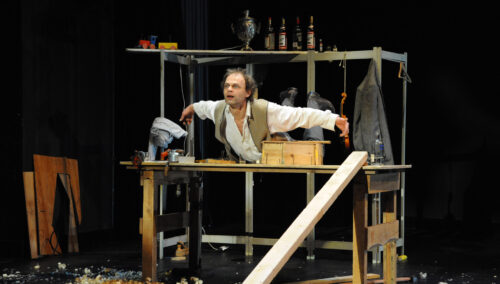 Playlist
Reeds geweest:
24.11.18

Mini-festival plan -d. Kaarten reserveren britt@plan-d.nl

06.10.17

I'M BINCK festival
Credits
Idea Andreas Denk
Choreography Andreas Denk
Dance Andreas Denk
Music Wiebe Gotink
Dramaturgical advice Klaus Jürgens
Light design Pink Steenvoorden

Other Performances