Ice Palace (6+)
Ice Palace is an exciting dance performance through a magical world of ice.
What is more beautiful than the colorful magic of a world where everything is ice? Ice to slide on, ice cream, huge ice sculptures or tiny ice cubes jingling in a glass. You can make almost anything from ice! But ice can also be an obstruction like a cement block. You can fall on it but it can also just disappear:  transformed into a puddle of water. But what is wrong with water? Water to splash or jump in, or to give to plants so they grow. And just to think that all this water used to be ice!
Ice palace is a thrilling dance performance with live music in which five adventurers travel on an exciting expedition through a frozen universe. They discover the huge power of ice but also its vulnerability. And they realize that these properties are inherent in themselves. During the journey they get to know each other better and better. Gradually they lose the hardness which is ice and they dare to reveal more of themselves. Even when things go wrong, especially then!
Ice palace is a magical performance about searching for  warmth with each other at icy moments, about daring to be vulnerable and about the enchantment of ice in all its most splendid forms.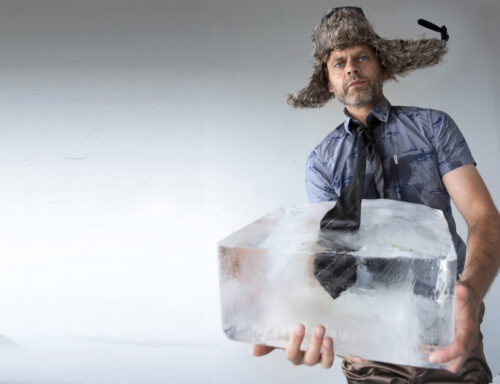 Playlist
Reeds geweest:
20.01.19

19.01.19

17.01.19

16.01.19

15.01.19

13.01.19

12.01.19

30.01.18

29.01.18

28.01.18

16.01.18

16.01.18

07.01.18

06.01.18

05.01.18

04.01.18

03.01.18

02.01.18

27.12.17

26.12.17

16.12.17

14.12.17

10.12.17

12.11.17

27.10.17

22.10.17

21.10.17

15.06.17

besloten voorstelling

22.04.17

13.04.17

04.04.17

04.04.17

02.04.17

26.03.17

21.03.17

21.03.17

20.03.17

20.03.17

16.03.17

15.03.17

15.03.17

14.03.17

05.03.17

17.02.17

17.02.17

16.02.17

10.02.17
...en dit vond het publiek!
Credits
Concept Andreas Denk
Choreography Andreas Denk
Co-regie Klaus Jürgens
Dance Lisa Beese, Elise Manière, Edita Gorski, Nanna Gram Bentsen, Ilija Surla
Animation Bram De Goeij
Music direction Wiebe Gotink
Set design Pink Steenvoorden / Einstein / Andreas Denk
Light design Pink Steenvoorden / Einstein
Costume design Dorine van IJsseldijk
Education & workshops Neel Brans
Photography / graphic design Es & Zn - Esther de Boer
Stage photography Leo van Velzen
Stage Manager Marco van de Velde, Vincent Andriessen, Stefan Bandalac
Animation Technique Remko Smids
Business manager Britt Arp
Marketing and publicity Henriëtte Olland
Office Assistant Ian Borthwick

Education
Plan d- is developing an accompanying educational programme linked to the performance. 
This programme, the Dream Castle, consists of some creative and interactive activities on the theme of ice and about ice. The audience can do this beforehand or after the show in the foyer of the theatre.  Contact plan d- for more information, or when you are interested in a workshop  made to your requirements

Other Performances