Sophie & Concert
A dynamic dance and music performance
Dancer Andreas Denk portrays a carpenter alone in his workshop, a man trying to survive in the middle of his chaotic existence – he balances on wooden boards, juggles with tools, allows himself to fall, but picks himself back up again. A man who struggles with his emotions. One minute angry and sad, the next minute, happy and exuberant. He drinks out of the bottles, throws glasses against the wall, and sings songs with abandon. He is desperate, but despite this, he hasn't lost his will to live. He knows that he must go on, must find a way, whatever that may be.
The interaction with the woman (Brook Cuden) brings enlightenment. The music she plays for him on the piano gives him wings. During a joyous and energetic dance, he is carried away as he listens to the consoling sounds of the music and moves slowly in the direction of new hope.
Sophie & Concert is an exciting and moving performance where dance, objects and music are integrally intertwined. The music includes composers such as Rachmaninoff, Brahms, Mahler, and Ginastera.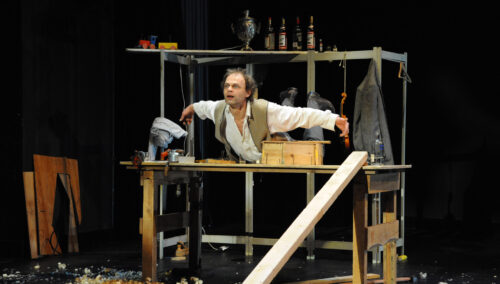 Credits
Idea, concept, dance Andreas Denk
Lightdesign Pink Steenvoorden
Set design Andreas Denk
Music advice and composition Wiebe Gotink
Coach Gabi Sund, Marieke den Dulk
Dramaturgical advice Klaus Jürgens
Production plan d- /Andreas Denk
Special thanks to Dansateliers en Lantaren/Venster
Music Rachmaninoff, Mahler, Brahms, Mussorgsky, Ginastera, e.a.
Final Direction Ria Marks

Other Performances