Tree! (4+)
Een ode aan de natuur: weerbaar, standvastig en duurzaam!
An exciting interactive expedition through the world of trees. Dance, acrobatics, live music and unexpected meetings take you with us on a walk full of fantasy and humour.
Who wouldn't want to climb in trees and take in the best view at a live birdsong concert? To build a tree hut where you can keep your deepest secrets? Fill your stomach with plucked fruit or have a romantic meeting in the light of the full moon.
Tree! Is the new interactive dance production by plan d- for the whole family (4+) about connecting and solidarity, about respect and being resilient when things go wrong.
A walk dancing through (city)nature which enables you to experience how trees see the world.
Wood wide web
In Tree! Three dancers and a musician plus a number of amateur dancers accompany the public between the trees. They tell stories and take us into the extraordinary world of trees: trees which communicate with each other through their roots and underground in a network of moulds, their "'wood wide web'. Trees which are safe havens for insects and birds. Trees that stand up to all sorts of storms. Trees that give us air.
Tree! Is a logical sequel to Friends in the countryside; a performance which brings the audience, in a playful and approachable way, in touch with durability and being aware of nature around us.
Participating
During the performance the audience is encouraged to participate. There is a possibility for local amateur groups, special schools, a local dance group or a dance academy to participate.
There is a wide ranging education package with several extra activities to participate in which children can connect with not only the form but also the content of the performance. Plan d- also adapts this performance for pupils in special schools.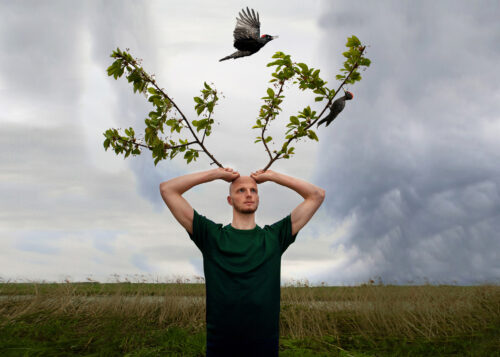 Playlist
Reeds geweest:
24.06.23

06.06.23

03.06.23

28.05.23

28.05.23

22.10.22

21.10.22

21.10.22

13.10.22

13.10.22

13.10.22

10.10.22

09.10.22

07.10.22

07.10.22

06.10.22

06.10.22

05.10.22

04.09.22

17.07.22

Stichting Wonderfeel Festivalterrein

16.07.22

12.06.22

12.06.22

11.06.22

01.01.70

01.01.70

01.01.70
Credits
Idee / Choreografie en Concept Andreas Denk
Choreografie / Randprogramma Wendy Grin
Dans / Choreografie Tijmen Teunissen, Claire Hermans, Ischa Statie, Sophie Prins, Oliver Wagstaff,
Spoken word in gebarentaal Tieka Masfar
Percussie en Muziek Yung-Tuan Ku, Mei Yi Lee, Emilio Saura, Béatrice Picard
Eindregie Ton Offerman
Acquisitie Frontaal Theaterbureau
Kostuumadvies Inez Meer
Fotografie / grafisch ontwerp Es & Zn - Esther de Boer
Scène fotografie Menno van der Meulen / Jessie Kamp
Met dank aan Anna Riley-Shepard, Jacob Lohman & Kees van Zelst

Zakelijke leiding Britt Arp
PR en marketing Connie Fluhme
Productie ondersteuning Ian Borthwick

Other Performances