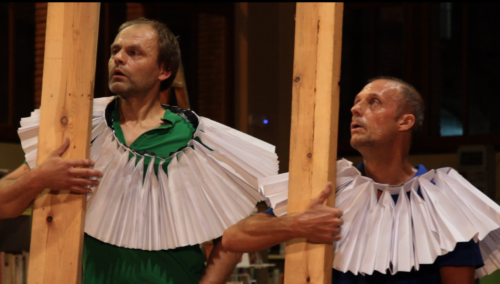 Bhum ! is a Manifesto, a Show, a Party, but it is, above all, the time of year when L'animal a l'esquena shares with the public the creative work of artists who have, on different occasions, taken part in our programme in support of creation process.
At this 5th event we shall again enjoy two days of performance pieces from around the world, an incredible, surprising assortment of theatre, circus, dance, music and audiovisual work. Yet again we would like to thank the public, performers, technicians and all the volunteers who help to make Bhum! possible.
Don't miss this year's event. We have great artists, good music, a bar and even a Valencian paella!! Welcome to Bhum ! http://www.lanimal.org
2 october 2015 19:00 Biblioteca de Celrà 
Entrada gratuita – Aforo limitado
Friends in the library
by Jordi Casanovas & Andreas Denk (Netherlands-Catalonia).
Free entry – Limited capacity