Sea heroes (6+)
Sea heroes is an exciting dance performance about the magical power of the sea.
In this performance, the dancers plunge themselves into the magic of life at and in the sea.  The sea that always captures the imagination and is full of exciting stories.
On an immense ship, our sea heroes are sailing across the ocean.  They hoist the sails, fasten the ropes, and scrub the deck.  In between, they are thrown to and fro on the ship by the fierce criss-crossing waves.  They hold on to each other tightly with a firm grip, and try with all of their might to remain standing.  That doesn't always work.  Boom.  The sea heroes fall and roll over and under each other.  As loyal comrades, they help each other to stand upright again.
And in the evening as the winds die down, they regale each other with venturous stories.  About the courageous pirate who found his lost ship.  And over the mermaid who enchants everyone with her alluring voice.  The sailors laugh together, they sing sea chanties and dance an exquisite  underwater waltz.  The sea then rocks them to sleep and they dream about tomorrow and all of the adventures that are still to come.
Sea Heroes is a rousing performance for young and old where dance, acrobatics, live music and song delightfully come together.  This lighthearted and touching ode to the sea is also an ode to the imagination. Because what is now more appealing than to lose yourself in your own self-created story?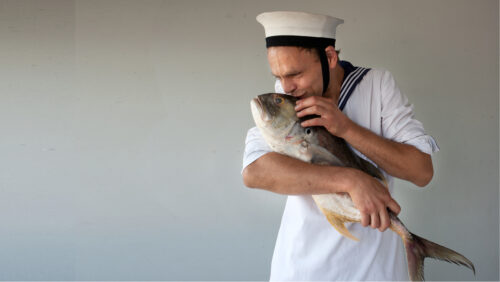 Playlist
Reeds geweest:
12.07.19

09.07.19

07.07.19

07.07.19

07.07.19

06.07.19

06.07.19

04.01.19

Mini-festival plan -d

24.11.18

Mini-festival plan -d. Kaarten resereren info@plan-d.nl

24.10.18

Mini-festival plan -d

19.10.18

Mini-festival plan -d
Credits
Concept and choreography Andreas Denk
Direction Klaus Jürgens
Dance Lisa Beese, Wannes De Porre, Andreas Denk
Music Brook Cuden en Young Slagwerk Den Haag, Mei-Yi Lee, Vitaly Medvedev (Sonolab Duo/Young Slagwerk Den Haag), Robin Eggers
Rehearsal direction Klaus Jürgens
Music direction Wiebe Gotink
Light design Pink Steenvoorden / Einstein Design
Costume design Dorine van IJsseldijk
Set design Andreas Denk / Pink Steenvoorden (EinsteinDesign)/Dorine van Ijsseldijk
Stage Manager Marco van der Velde, Pepijn Stutterheim, Gilius Kreiken
Production Casper Jansen (Choano productions)
Do-Boat Jacob Kuiper
Education & workshops Neel Brans
Photography / graphic design Es & Zn - Esther de Boer
Stage photography Leo van Velzen

Other Performances