Friends in the Country (5+)
Een vrolijke en ontroerende dansvoorstelling over de kracht en de schoonheid van de natuur.
The friends go into nature. No mini-garden but a real wilderness! They put on their dungarees, get their garden tools ready and off they go. They sow, they harvest, they dig and they rake the ground as fast as they can. Together they create a world of beautiful plants. Flowers to smell, plants to look at, vegetables to make your mouth water. And of course a tree for climbing and to swing from!
The friends are completely self sufficient. They don't just grow their own food they recycle everything they can get their hands on.
Of course everything goes wrong. You can't control nature can you? There is a hail shower, mould, fungus and a burst pipe recycled into a wonderful tool that suddenly collapses. But together the friends are strong and  fortunately  they always find a solution.
Friends in the Country is a sequel to the successful plan-d productions Friends on Vacation, Friends in the Winter and Friends in the library. A lively and moving dance performance about the power and beauty of nature. But also about the vulnerability of the environment; plastic soup in the sea, CO2 emissions and thawing ice floats. Whatever happens the friends don't let each other down and always discover new things. Friends in the Country is therefore a wonderful ode to friendship, to fantasy and creativity.
JOIN IN:
Friends in the country is a durable performance. We generate our own energy and we need the audience to help us. You have to help with generating electricity, making water spray, wind energy and claps of thunder.
There is a theatre version and also a version that can be performed outside during summer months.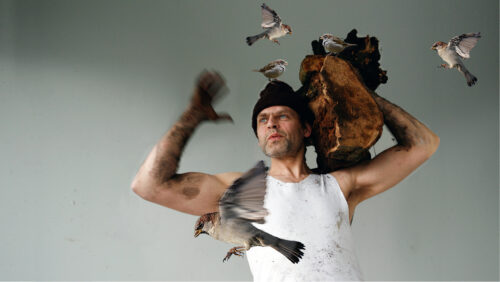 Playlist
Reeds geweest:
29.09.19

14.05.19

14.05.19

13.05.19

05.05.19

Bevrijdingsfestival

05.05.19

Bevrijdingsfestival

24.04.19

18.04.19

11.04.19

12.03.19

12.03.19

10.03.19

20.11.18

20.11.18

19.11.18

13.11.18

13.11.18

10.11.18

05.11.18

25.10.18

Mini-festival plan -d

16.10.18

16.10.18

30.09.18

23.09.18

16.09.18

16.09.18

15.09.18

15.09.18

09.09.18

16.07.18

15.07.18

11.06.18

10.06.18

09.06.18

24.05.18

24.05.18

03.05.18

17.12.17

27.11.17

26.11.17

14.11.17

05.11.17

02.11.17

01.11.17

26.10.17

24.10.17

16.10.17

15.10.17

04.10.17

17.09.17

17.09.17

16.09.17

16.09.17

10.07.17

09.07.17

09.07.17

25.06.17

Zomer in de Mare - Park Alkmaar Noord

24.06.17

24.06.17

23.06.17

23.06.17
Trailer Friends in the Country (theatre performance)
Trailer Friends in the Country (performance outside)
Credits
Concept/choreography Andreas Denk
Dance Andreas Denk, Ilija Surla
Direction Ton Offerman
Music Marit Thus
Set and light design Pink Steenvoorden / Einstein design
Repetitor Josephine van Rheenen
Photo /graphic design Es &Zn - Esther de Boer
Stage photography René den Engelsman, Menno van der Meulen
Production Wendy Grin
PR & Marketing Hedwig van der Zwaal
Financial Management Britt Arp
Office assistent Ian Borthwick

Education
Voor deze voorstelling bestaan op aanvraag aanvullende educatieve activiteiten.
Other Performances