Circus Santa Sangre
A rollicking circus and dance show
Co-production SchauBurg München, Szene Bunte Wähne, Grand Theatre Groningen
A group of circus artists are working on a new show. Determined and full of passion, the artists practice their new acts. We observe as they succeed and fail, and as they stand in each other's way, or help each other out. Just as in real life, they are flung back and forth between disappointment and irritation, hope and crazy happiness. We discover the personal stories of the circus artists. The love that grows between them, and the rivalry that always exists.
A tight-rope walker who is afraid of heights, a knife-thrower who's afraid to fail, the woman with four legs, and of course, the magnificent finale – because everything works out for the best in the end.
CIRCUS SANTA SANGRE is a sparkling and exciting show that surprises and impresses the audience with its beautiful visual images. The show is funny and moving at the same time and shows the audience the the wonderful world of the circus, where everything is possible. Or does it just seem that way?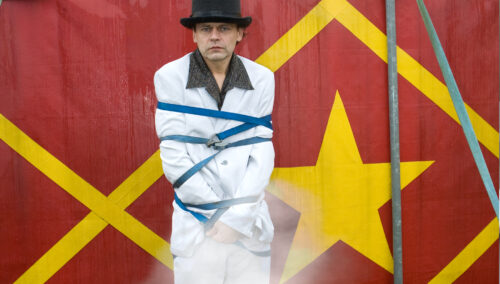 Playlist
Reeds geweest:
29.12.18

Mini-festival plan -d

25.11.18

Mini-festial plan -d . Kaarten reserveren britt@plan-d.nl

26.10.18

MIni-festival plan -d
Education Circus Santa Sangre: Slacklining
Education Circus Santa Sangre: Slacklining with a dilemma
Credits
Idea Andreas Denk
Choreography Andreas Denk
Direction Dirk Groeneveld
Actors Eva Vrieling, Woedy Woet, Andreas Denk, Andrea Beugger, Wynn Heliczer (tot 2012), Monika Haasova (tot juni 2011)
Lighting design Andre Pronk
Music Wiebe Gotink
Costumes Iris Robles ism. Sanne Klap
Technique Loekie Wiefferink
Assistant technique Henk Neef


Other Performances