The Friends' kitchen parade from 0-99 years
A tasty dance performance
Where are you allowed to slurp at table? What do forgotten vegetables taste like? Is pitaya really dangerous and what does  'the way to a (wo)man's heart is through the stomach' mean?
In the Friends' Kitchen parade plan d- visits the kitchen of the neighbours to discover their food habits. The whole stage is a melting pot of smells, colours and tastes. In this big cosmopolitan kitchen we tell stories about kosher and halal, Belgian fries, couscous versus meatball. Cooking brings people together and cake and pie is food for the soul.
Two dancers discover the ultimate in tasty recipes from all over the world. In a tasty journey through the cosmopolitan kitchen they find a wide range of dishes and traditions which tell us about the inhabitants and the country they grew up in.
In this kitchen we celebrate world kitchen peace by eating together and by learning from each other's traditions and peculiarities.
For all ages and for everybody who likes food…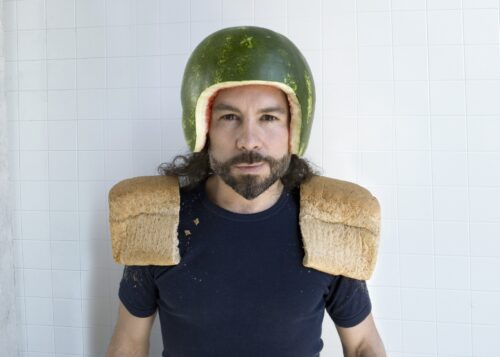 Playlist
October
30

Kassel (D)

17.00

Kulturhaus Dock 4

tickets
November
02

School Show

Leiden

11.00

Theater ins Blau

02

School Show

Leiden

13.00

Theater ins Blau

07

08

School Show

Leiden

11.00

Theater ins Blau

08

School Show

Leiden

13.00

Theater ins Blau

09

School Show

Leiden

11.00

Theater ins Blau

09

School Show

Leiden

13.00

Theater ins Blau

14

Laren (NH)

15.00

Singer Theater

tickets

15

School Show

Den Haag

Holland Dance Festival

16

School Show

Den Haag

Holland Dance Festival
December
27

Tilburg

13.00

Theater de NWE Vorst

27

Tilburg

15.00

Theater de NWE Vorst

28

Tilburg

13.00

Theater de NWE Vorst

28

Tilburg

15.00

Theater de NWE Vorst
January
02

02

Zoetermeer

16.00

Stadstheater

18

School Show

Almere

11.00

Theater de Glasbak

18

School Show

Almere

13.00

Theater de Glasbak

30

30

31

School Show

Den Haag

10.30

Amare

31

School Show

Den Haag

13.30

Amare
May
08

Utrecht

14.00

Podium Spirits - ZIMHIC
July
02

Amsterdam

15.00

Bijlmer Parktheater
Reeds geweest:
19.10.21

17.10.21

10.10.21

02.10.21

01.10.21

19.09.21

19.09.21

19.09.21

18.09.21

18.09.21

18.09.21

29.08.21

29.08.21

29.08.21

27.08.21

27.08.21

27.08.21

26.08.21

26.08.21

26.08.21

19.08.21

19.08.21

03.07.21

28.06.21

28.06.21

28.06.21

27.06.21

27.06.21

26.06.21

26.06.21

25.06.21

02.05.21

Postponed until 2021/22 season

19.04.21

Cancelled due to Covid 19

13.04.21

Gecancelled vanwege Covid 19

12.04.21

Gecancelled vanwege Covid 19

04.04.21

Cancelled due to Covid 19

30.03.21

Cancelled due to Covid 19

30.03.21

Cancelled due to Covid 19

13.03.21

Cancelled due to Covid 19

24.02.21

Gecancelled vanwege Covid 19

24.01.21

Cancelled due to Covid 19

24.01.21

Cancelled due to Covid

30.12.20

Cancelled due to Covid 19

30.12.20

Cancelled due to Covid 19

29.12.20

Cancelled due to Covid 19

29.12.20

Cancelled due to Covid 19

28.12.20

Cancelled due to Covid 19

28.12.20

Cancelled due to Covid 19

23.12.20

Cancelled due to Covid 19

20.12.20

Cancelled due to Covid 19

31.10.20

Cancelled due to Covid 19

21.10.20

Cancelled due to Covid 19

21.10.20

Cancelled due to Covid 19

18.10.20

15.10.20

04.10.20

Gecancelled vanwege Covid 19

04.10.20

Gecancelled vanwege Covid 19

28.08.20

28.08.20

27.08.20

27.08.20

26.08.20

26.08.20

25.08.20

25.08.20

24.08.20

24.08.20

01.01.70
Credits
Concept & choreography Andreas Denk
Dance Andreas Denk & Cherif Zaouali
Co-choreography Jordi Casanovas / Wendy Grin
Light Varja Klosse
Musical advice Kaveh Vares
Costumes Hedwig van der Zwaal
Set Design & realisation Andreas Denk
Director Mohamed Aadroun
Technic Ohad Arama
Production & education Wendy Grin
Pr and Marketing Hedwig van der Zwaal
Financial Management Britt Arp
Office Assistant Ian Borthwick
Thanks Marco van de Velde

Other Performances