Ow!
Een vrolijke dansvoorstelling over pijn...
OW! shows that life isn't always as sweet as roses, but can be very painful as well. And how terrible is the pain when you fall off your bike, or topple from the jungle gym, or you see your best friend walking hand in hand with another! What do you do with this pain, and how do you find comfort and a helping hand to get you back up on your feet again?
This delightful and dynamic performance shows through a funny and moving perspective the many different ways life can cause pain, how people experience this pain, and offers solutions for helping to ease it. Pain can be helpful – it makes you stronger and is not necessarily something to be afraid of. Sometimes the best thing to do is to scream out loud from the pain. OW! This brings relief and gives you the strength to stand up again. And of course, a little bit of sympathy goes a long way too! A kiss on the knee, a pat on the cheek and a little song before you go to sleep… you know then that everything will be all right because after all, doesn't time heal all wounds?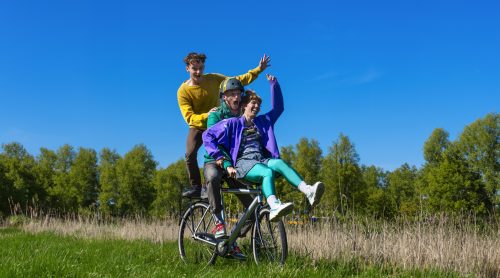 Playlist
Reeds geweest:
30.09.23

26.09.23

26.09.23

18.08.23

18.08.23

17.08.23

17.08.23

16.08.23

16.08.23

15.08.23

15.08.23

14.08.23

14.08.23

11.08.23

11.08.23

10.08.23

10.08.23

09.08.23

09.08.23

08.08.23

08.08.23

07.08.23

07.08.23
Credits
Concept Andreas Denk, Bram de Goeij
Dance / sang / act Claire Hermans, Tijmen Teunissen, David Feenstra
Final direction Bram de Goeij
Music / script Wiebe Gotink
Set design Andreas Denk
Costumes Dorine van IJsseldijk
Rehearsal director Wendy Grin 
Production Marij Wools, Wendy Grin
Publicity Milou Leerkes, Connie Fluhme
Pictures Petra Katanic

Other Performances